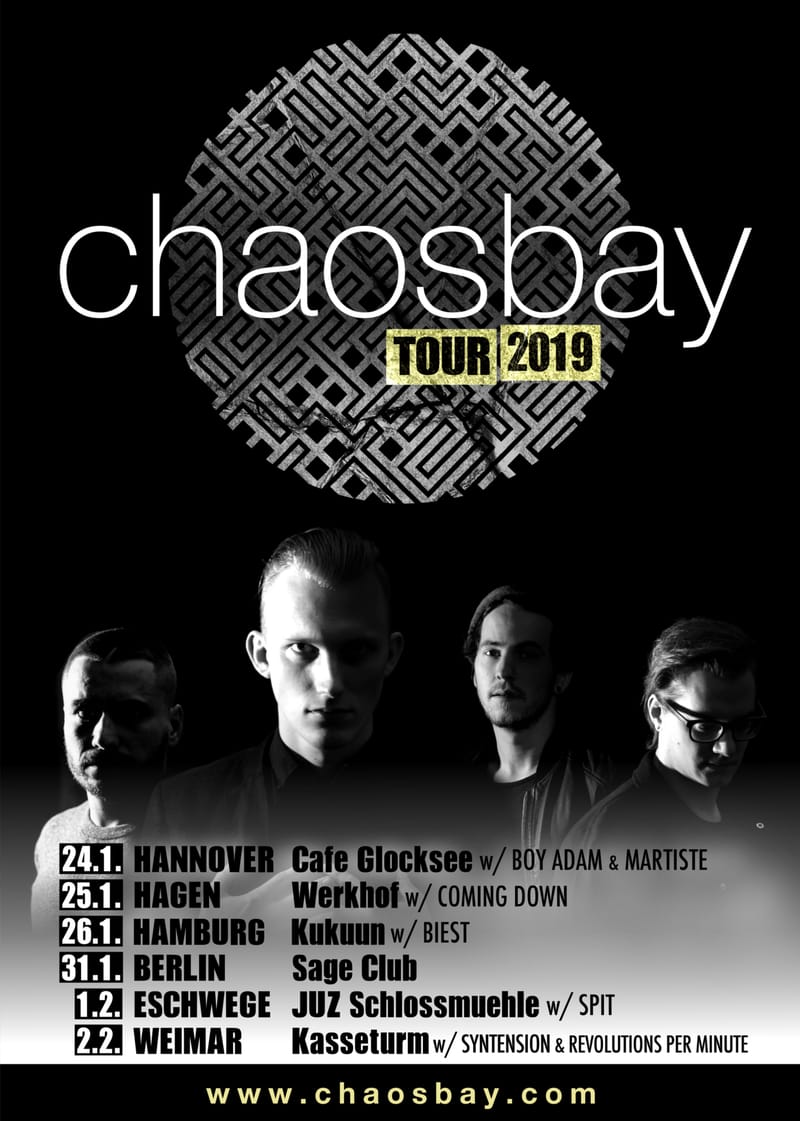 ENGLISH:
Formed in early 2012, CHAOSBAY is digging its way through the thickets of the upcoming metal and progressive music scene. Ever since then, the group founded by mastermind Jan Listing, has always strived to combine complex song structures with heaviness and catchy melodies, led by outstanding and wide-ranging lead vocals. Meticulously working on their energetic and virtuoso live-shows, their songs tend to exceed the limits of conventional lenghts and structures, leading to a new architecture of sound, inspired by classical music, pop and metal genres. Touring throughout clubs and having hit many stages in their home country during the last seven years, CHAOSBAY had the opportunity to support the well-known German progressive/alternative-acts THE INTERSPHERE, as well as instrumental-progrockers FRAMES and US-stoner-legends CLUTCH. In 2015 they opened for the german Math-Rockers THE HIRSCH EFFEKT on their Agonsie-Tour and had the chance to play the world-known progressive festival EUROBLAST in Cologne alongside with TESSERACT, ANIMALS AS LEADERS, MONUMENTS and many more. The band released their fully self-made and eponymous EP in late 2012, a second EP "Tragedy No.1" in 2015 and their first full-length- and concept-album "Vasilisa" in December 2015.
After a one-year-break, they returned with a new EP "Of Cutting Cords" in April 2017, celebrated their live comeback with a headliner tour throughout Germany in early 2019 and a new full-lengh album in 2020 called "Asylum".
___________________________
GERMAN:
Nach fast dreijähriger Live-Abstinenz kehrten die Prog-Metaller CHAOSBAY nun endlich wieder auf die Bühne zurück und boten eine gewohnt fulminante Rock-Show aus epischen Longtracks, großen Melodien und atemberaubenden Instrumental-Feuerwerken.
Sänger und Mastermind Jan Listing, seine Mitstreiter Matthias Heising (b), Patrick Bernath (dr) und Neuzugang Alex Langner (g) fanden sich für eine einzigartige Tour zusammen, um ihren gewaltigen Sound aus messerscharfen Riffs, vertracktem Prog, atmosphärischen Flächen und trotzdem unnachahmlich eingängigem Songwriting sound- und lichttechnisch auf eine ganz neue Ebene zu heben.
Freunde von Bands wie PERIPHERY, MUSE, TESSERACT, aber auch STEVEN WILSON, PINK FLOYD und DREAM THEATER konnten Ausschnitte des 40-minütigen Koloss-Tracks und Debüt-Albums "Vasilisa" (2015) und auch einige brandneue Songs hören.
Seit ihrer Gründung 2012 in Mannheim waren die vier Jungs schon mehrfach in ganz Deutschland auf Tour, unter anderem im Vorprogramm von THE HIRSCH EFFEKT, THE INTERSPHERE, DIORAMIC, CLUTCH (US) und auf dem weltbekannten EUROBLAST Festival in Köln. Mehrere Veröffentlichungen, darunter ein Konzeptalbum und drei EPs haben die Band zu einer beachtlichen Newcomer-Größe im Bereich Prog/Djent/Metal gemacht.
Seit 2016 sind sie größtenteils in Berlin ansässig, in diversen Bands und als Songwriter und Produzenten für nationale und internationale Acts aktiv. Zur Freude aller sehnsüchtig wartenden Fans haben sie die Zeit gefunden und eine kleine Tour in 6 ausgewählten Städten zusammengestellt um mit alten und neuen Fans und befreundeten Bands das Live-Jahr 2019 gebührend einzuläuten. Die nächste Headliner-Tour für Januar 2020 steht bereits in den Startlöchern.
"Blitzsauberes Handwerk, vertrackte Songstrukturen und erstaunlich melodiöse und einprägsame Gesangslinien serviert uns der dynamische Vierer auf seiner ersten EP. Wenn die Jungs in diesem Sinne weitermachen, wird das Debüt-Album zweifellos für Furore sorgen." - HardHarderHeavy.de